In the Shadow of Dictatorship: Creating the Museum of Spanish Abstract Art
During an era when Spanish artists found success abroad yet struggled for recognition at home, artist, critic, and collector Fernando Zóbel (1924–1984) established the Museo de Arte Abstracto Español in Cuenca (Castilla-La Mancha) on July 1, 1966, the first institution of its kind within Spain. More than forty highlights from its remarkable collection—most coming to the U.S. for the first time—tell the story of this pioneering artists' museum and explore the rich panorama of abstract Spanish art during the middle of the twentieth century and under the Francoist regime.
Right: Exhibition video (3m50s)
In the late 1950s, as Zóbel was becoming a friend to artists such as Antoni Tàpies, Eduardo Chillida, Antonio Saura and Luis Feito, among others, the question of how to promote and ensure awareness of their works in Francoist Spain—culturally isolated and lacking an infrastructure to support the artistic avant-garde— acquired for him a special urgency. He perceived the need to provide Spanish abstract art and its future public with a permanent headquarters through the foundation of an independent museum. At that time, the Casas Colgadas (Hanging Houses) of Cuenca, a set of Gothic buildings that "hang" at two hundred meters above the bend of the Huécar River, were being rehabilitated, and Zóbel felt that their architectural charm and the beauty of their geographical location complemented and even surpassed his vision of a space appropriate for an abstract art museum. Once the location of the museum was decided, he cultivated a management team made up entirely of artists, including Gustavo Torner, Gerardo Rueda, Antonio Lorenzo, Eusebio Sempere, Fernando Nuño, Jordi Teixidor and José María Yturralde.
In 1969 the collection was expanded to include works by women artists; that same year the museum opened a graphic work workshop with a printing press, which attracted numerous engravers, painters, and sculptors, and turned the city into an authentic artistic colony. The workshop, with its production of engravings and multiples, also facilitated the propagation of Spanish abstract art throughout the country. Additionally, the museum awarded scholarships to young Spanish artists, and invited them to participate in the development and operation of the museum.
In 1980, Zóbel donated the museum's collection of nearly 700 works and his personal library to Fundación Juan March, an institution prepared to preserve of the space, the collection, and the museum project. Since Zóbel's death in 1984, the Foundation has continued the museum's mission through select acquisitions, a permanent program of exhibitions, and educational activities. The museum's scheduled closure in 2022-2023 for work on its climate control system has provided an opportunity for it to make its collection and history known to a larger public with this traveling exhibition; Mellon Curatorial Fellow Clarisse Fava-Piz curates its stop at the Meadows Museum, the collection's only U.S. venue. The show will be accompanied by an exhibition catalogue, the first major scholarly publication on the collection of the Museo de Arte Abstracto Español in English.
This exhibition has been organized by the Meadows Museum and the Fundación Juan March and is funded by a generous gift from The Meadows Foundation.
Promotional support provided by the Dallas Tourism Public Improvement District.
IN-PERSON LECTURE
April 6 | 6:00 pm
Space to Maneuver? Abstract Art in Francoist Spain
Robert Lubar Messeri, Associate Professor of Modern Art, Institute of Fine Arts, New York University, and The Joan Miró Curator, Museu Serralves, Porto, Portugal
This lecture considers the growth of abstract art in Spain in the 1950s against the backdrop of Franco's Dictatorship.   As Spain re-entered the international community, it sought legitimation through cultural promotion.  Specifically, the regime promoted recent abstract painting and sculpture in Spain as an international phenomenon in line with advanced democracies, belying the deep social repression that maintained state control.  This begs a broader question: Were elements of visual and rhetorical resistance to the regime inscribed within the works of these artists, or did they willingly allow their work to be appropriated as Spanish cultural ambassadors?  What were the spaces in which abstract artists could maneuver a subtle critique of the regime, and what is the extent of their complicity?  Outside of Spain, what political valences did the reception of work by these artists have in response to the Dictatorship?  This talk considers the visual, critical, and rhetorical gambits through which abstract art in Spain was produced and received at home and abroad.
Member: Free
SMU Student/ Staff/ Faculty: Free
Nonmember: $10
---
IN-PERSON LECTURE
May 18 | 6:00 pm
A Brief History of the Euro-American Public Art Museum and Community Art Spaces
John Vincent (J.V.) Decemvirale, Weisman Postdoctoral Instructor in Visual Culture and Presidential Postdoctoral Fellow in the Division of the Humanities and Social Sciences, California Institute of Technology
This lecture brings together the distinct but entangled histories of the Euro-American public art museum and culturally-specific community art spaces. Through contemporary case studies in the United States and Latin America,Decemvirale will offer another perspective of our contemporary cultural landscape in which community art centers do the everyday work of supporting the creative (and economic) lives of artists and people of color in times of economic and political crises. Asking whether or not the public art museum model is willing to disobey its own rules so as to fulfill its self-defined democratic mandate, this lecture will consider the possible shared objectives between these distinct spatial models and the epistemic politics at the root of contemporary museology's agenda of diversity.  This lecture is presented as part of Mellon Curatorial Fellow Clarisse Fava-Piz's capstone project.
Member: Free
SMU Student/ Staff/ Faculty: Free
Nonmember: $10
---
Further Afield: Virtual Talks
Further Afield provides broader social, political, economic, and historical context for works of art at the museum. This spring Further Afield focuses on art, culture, and life during Francoist Spain (1939-1975). These 45-minute talks take place exclusively online.
VIRTUAL TALK
The Spanish Civil War Memory Project: The Making of a Human Rights Digital Archive
Luis Martín-Cabrera, Associate Professor, Department of Literature, University of California San Diego and Director of The Spanish Civil War Memory Project
March 7 | 12:00 pm Central Time
In this lecture, Professor Martín-Cabrera will discuss the making of The Spanish Civil War Memory Project as a contemporary Human Rights digital archive. During the Spanish Civil War (1936-1939), and in the long post-ward (1940-1975), General Francisco Franco, a close allied of Hitler and Mussolini, unleashed an unprecedented repression against his political enemies that left thousands of bodies in unmarked mass graves. With the arrival of democracy in 1975, the victims and the relatives of the victims of these human rights abuses did not receive any reparations or justice. The political elite decided that it was better to forget and forgive what happened during the war and the post-war.  The Spanish Civil War Memory is part of a wider civic movement to construct a collective memory of these events as a form of justice and reparation. Using the tools of oral history and the digital humanities, the research teams of The Spanish Civil War Memory Project collected over 100 testimonials of people directly and indirectly affected by the fascist repression. The lecture will be based on these testimonials.
Member Household: Free
SMU Student/Staff/Faculty: Free
Non-member Household: $5
Register Online
---
VIRTUAL TALK
Just Do It: Museums as a Basic Need
Manuel Fontán del Junco, Director of Museums and Exhibitions, Fundación Juan March and Director of the Museum of Spanish Abstract Art, Cuenca
April 4 | 12:00 pm Central Time
During the 1960s, Spain was under a dictatorship that had begun to have diplomatic relations with other European countries and the United States. The official cultural policy of the regime took advantage of this certain "openness" to present the work of abstract artists in international forums (the Venice and Sao Paulo Biennials, above all), giving an image of a modern country open to avant-garde art. In the interior of the country, however, legislation prevented freedom of political association and freedom of expression, and neither artists nor citizens had museums in which to exhibit and learn about modern and contemporary art. Until one of them, Fernando Zóbel, decided to create a museum in 1966 in a small town at his own risk, totally independent – intellectually, politically and economically – of Franco's official cultural policy.
Member Household: Free
SMU Student/Staff/Faculty: Free
Non-member Household: $5
Register Online
---
VIRTUAL TALK
Avant-garde, Militant Criticism and the Franco Regime: a Battle for the Meaning of Modern Art
Paula Barreiro López, Professor of Contemporary Art History, Université Toulouse 2 Jean Jaurès
May 2 | 12:00 pm Central Time
In 1962 Antonio Giménez Pericás, a Valencian art critic deeply involved with the avant-garde movements in Francoist Spain, was arrested for political activism. During the following military trial, he defended the political meaning of art considering politics as consubstantial with artistic processes. Such point of view was in complete opposition to the officially endorsed autonomous understanding of art. Nevertheless, Pericas' stance was not just expressing his beliefs, or that of the clandestine Communist Party (to which he belonged), but also that of a great many artists, critics and intellectuals at that time. This lecture will analyze the creation and development of this specific understanding of the arts highlighting the inevitable processes of negotiation that it entailed amongst art critics, artists and cultural agents during Late Francoism (1959–1975).
Member Household: Free
SMU Student/Staff/Faculty: Free
Non-member Household: $5
Register Online
---
GALLERY TALKS
Gallery Talks take place at the museum and last approximately 45 minutes. Advance registration is required.
Free with regular museum admission
Register Online
March 23 & April 20 at 6:30 & 8:00 PM and March 24 & April 21 at 12:15 PM
Artist Talks | In the Shadow of Dictatorship: Creating the Museum of Spanish Abstract Art
In the spirit of the central role that artists played in the creation of the Museum of Spanish Abstract Art, the Meadows Museum is joining forces with the Cedars Union, a non-profit arts incubator focused on nurturing artists, to present gallery talks led by Dallas-based artists. These talks will explore the exhibition In the Shadow of Dictatorship: Creating the Museum of Spanish Abstract Art through an artist's perspective and take place as part of the capstone project of Mellon Curatorial Fellow Clarisse Fava-Piz.
March 23, 6:30 & 8:00 PM: Hannah Rotwein, Artist
March 24, 12:15 PM: Hannah Rotwein, Artist
April 20, 6:30 & 8:00 PM: Jessica Baldivieso, Artist*
April 21, 12:15 PM: Jessica Baldivieso, Artist
* 8:00 pm tour will be in Spanish / El tour de las 8:00 pm será en español
---
Film Series: Film and Franco
Thursdays, March 30, April 27, & May 25 | 7:00 pm
This spring the Meadows Museum is proud to collaborate with Dallas Film to present a series of films that deal with the effects of Francisco Franco's Dictatorship on life in Spain. These in-person screenings include a brief introduction to the film and how it relates to themes in the museum's current exhibition, In the Shadow of Dictatorship: Creating the Museum of Spanish Abstract Art.
March 30: Parallel Mothers / Madres paralelas (2021) directed by Pedro Almodóvar.
Parallel Mothers is the first time acclaimed Spanish film director Pedro Almodóvar confronts the legacy of the Francoera. Two single women, both pregnant by accident, meet in the hospital room where they are going to give birth. While middle-aged Janis is happy about her pregnancy, adolescent Ana is scared. The few words they exchange in these hours will create a very close link between the two, which, by chance, develops, complicates, and changes their lives. The story is framed within the larger context of Franco's regime in Spain and deals with intergenerational grief of post-Franco Spain.
Spanish with English subtitles | 123 minutes
Meadows Museum Member: Free
SMU Student/Staff/Faculty: Free
Non-member: $5
April 27: The Spirit of the Beehive / El espíritu de la colmena (1973) directed by Víctor Erice
The Spirit of the Beehive is widely regarded as the greatest Spanish film of the 1970s. In a small Castilian village in 1940, in the wake of the country's devastating civil war, six-year-old Ana attends a traveling movie show of Frankenstein and becomes possessed by the memory of it. Produced as Franco's long regime was nearing its end, The Spirit of the Beehive is a bewitching portrait of a child's haunted inner life and one of the most visually arresting movies ever made.
Spanish with English subtitles | 99 minutes
Meadows Museum Member: Free
SMU Student/Staff/Faculty: Free
Non-member: $5
May 25: Viridiana (1961) directed by Luis Buñuel
Banned in Spain and denounced by the Vatican, Luis Buñuel's irreverent vision of life as a beggar's banquet is regarded by many as his masterpiece. In it, novice nun Viridiana does her utmost to maintain her Catholic principles, but her lecherous uncle and a motley assemblage of paupers force her to confront the limits of her idealism. Winner of the Palme d'or at the 1961 Cannes Film Festival, Viridiana is as audacious today as ever.
Spanish with English subtitles | 90 minutes
Meadows Museum Member: Free
SMU Student/Staff/Faculty: Free
Non-member: $5
---
FAMILY DAY: Abstraction
April 16 | 2–4 PM
Color, line, shape, oh my! Enjoy art making, gallery activities, story time, and more as you explore the world of abstract art at the Meadows Museum. Admission and parking are free. Strollers are welcome. Changing tables and healthy snacks will be available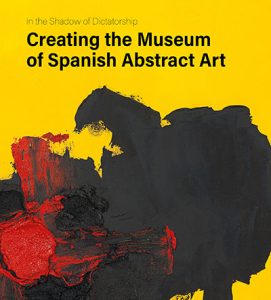 In the Shadow of Dictatorship: Creating the Museum of Spanish Abstract Art
Edited by Amanda W. Dotseth and Clarisse Fava-Piz
183 pp; $65