Hours
Tuesday-Friday 10:00 a.m. – 5:00 p.m.
Saturday 10:00 a.m. – 5:00 p.m.
Sunday 1:00 p.m. – 5:00 p.m.
Thursdays until 9:00 p.m.
Monday CLOSED
The Meadows Museum is closed on Mondays, Easter Sunday, July 4, Thanksgiving Day, Christmas Day, and New Year's Day.
🏈The Meadows Museum is adjacent to the football stadium and a portion of its parking garage is used for game-day parking. When visiting in the fall, please check www.smumustangs.com for SMU game information prior to your visit and plan for heavy traffic and altered traffic patterns around the museum for several hours before and after posted kick-off times. DART's free shuttles to campus from Mockingbird Station also run modified schedules on game days, check www.dart.org for the most current information.🏈
Admission
To exhibitions and upper galleries:
$12 for adults, $10 for seniors 65 and over, $4 for non-SMU students.
Complimentary admission on Thursdays after 5 p.m.
Meadows Museum members and youth 18 and under are admitted free.*
SMU faculty, staff, and students receive free admission upon presentation of their University photo ID.
*Free admission is offered to all youth 18 and under through August 31, 2023, thanks to a grant from Fichtenbaum Charitable Trust, Bank of America, N.A., Co-Trustee.
The Meadows Museum will admit active military and their families for free at all times as a participant in the Blue Star Museum program (PDF)

Location
5900 Bishop Blvd. Dallas, TX 75205
Tel: 214.768.2516
Fax: 214.768.1688
Mailing Address:
P.O. Box 750357 Dallas, TX 75275-0357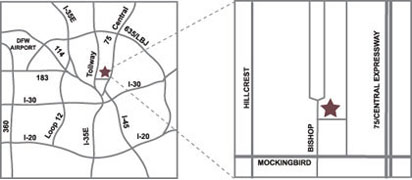 Directions and Parking
The Museum is located on the edge of the Southern Methodist University campus, on Bishop Boulevard, one block north of Mockingbird Lane. Entrance to the parking garage underneath the museum is at the corner of Bishop and Schlegel. Parking is FREE for museum visitors!
From Central Expressway (US 75): exit Mockingbird Lane (exit #3). Turn west and go two blocks (Stadium is on the right). Turn right on Bishop Blvd., turn right on Schlegel Street and make an immediate left into the parking garage under the Museum. Enter the right entrance into the garage which is marked "Meadows Museum Parking Only." Visitors may access the museum entrance from the stairs on street level or by riding the elevators from the first or second level of the parking garage.
From Love Field Airport, Dallas: Take the airport exit to Mockingbird Lane and turn left on Mockingbird Lane. Proceed east approximately five miles, passing Hillcrest Avenue. Turn left at the next traffic signal, Bishop Boulevard. Drive approximately 200 feet to Schlegel Street, turn right and make an immediate left into the museum's underground parking garage. Enter the right entrance into the garage which is marked "Meadows Museum Parking Only."
From Dallas-Fort Worth Airport: Take the "south" airport exit to 183 East. Take I-35 East (Stemmons Freeway) proceeding south to the exit marked "To US-75." Move to one of the two left lanes to merge with US-75 North. Continue north on US-75 approximately four miles to Mockingbird Lane (US-75 exit # 3). Turn left, proceeding west, approximately 1/2 mile to Bishop Boulevard. Turn right onto Bishop Boulevard and drive approximately 200 feet to Schlegel Street turn right and make an immediate left into the museum's underground parking garage. Enter the right entrance into the garage which is marked "Meadows Museum Parking Only."

Public Transportation
By Rail – Take the Red, Blue, or Orange Line to SMU/Mockingbird Station (Mockingbird Lane at Central Expressway). From the station, walk/bike west on Mockingbird Lane approx. 3/4 mi. to Bishop Boulevard and turn right, the museum is the first building on the right. Bike racks are located behind the museum, on the east side of the building. Alternatively, catch one of the FREE shuttles to campus from SMU/Mockingbird Station. The 440 SMU Red Express route stops at our main entrance; the 442 SMU Blue Express stops along Mockingbird Lane close to Bishop Boulevard. Consult DART.org (www.DART.org) for routes, schedules, and operating hours.
By Bus – Consult DART (www.DART.org) for the most up-to-date schedules and availability.
Gallery Rules
Umbrellas, backpacks, or other bulky items are not allowed in the galleries.
Photography without flash is permitted in the galleries, except where indicated.
No food or drinks are allowed in the galleries except for special programs.
Writing and Sketching in the Galleries
Visitors may bring reasonably sized sketchbooks into the galleries.
Writing and sketching materials may include pencil, crayon and oil pastels only. (Absolutely no charcoal or wet materials are allowed in the galleries).
Do not use the walls or benches as writing or drawing support; use only hand-held boards or notebooks.
Keep all materials at least three feet away from the art. Many of our artworks are extremely fragile and can be damaged by the slightest touch.
Do not bring large, sharp objects into the galleries including rulers, t-squares, and easels.


Visiting the Meadows during COVID-19
Steps WE are taking to minimize your risk:
Advance-purchase tickets to assist with capacity management
Protective acrylic panels at the Admissions Desk and Museum Shop workstations
Hand sanitizer units stationed throughout the building
Steps we expect VISITORS to take to minimize risk:
Visit SMU's COVID Safety page for the most recent guidelines concerning masks, vaccinations, etc.
Children must always stay with adults.
Practice proper hygiene for the prevention of disease as directed by the CDC, including frequent handwashing and cough/sneeze etiquette.
Leave large bags, backpacks, and other bulky items at home; they cannot be taken into the galleries or left at the Admissions Desk. A small number of cubbies (unmonitored) are available for temporary storage of such items.
If experiencing symptoms of COVID-19, please stay home.
Thank You!