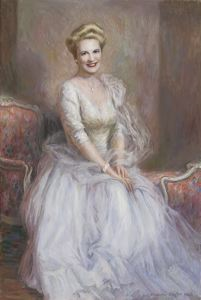 This image is restricted, permission must be requested for reproduction. Downloading for commercial use is prohibited. If you wish to obtain rights to reproduce this image please see our Rights and Reproductions page.
Portrait of Virginia Meadows
1960
Oil on canvas
59 x 39 in. (149.9 x 99.1 cm)
Century: 20th Century
Credit Line: Meadows Museum, SMU, Dallas. Gift of The Meadows Foundation, MM.82.01
Accession Number: MM.82.01

More Information
Visual Description
This portrait of Virginia Meadows, first wife of the museum's founder, is approximately 5 feet tall by 3.25 feet wide and is oil on canvas. Mrs. Meadows sits tall on a red floral chair, hands placed on her lap, smiling widely at the viewer. Behind her the background is composed of a multitude of brushstrokes in pastel shades as if softly scribbled. Mrs. Meadows wears a long gown with a sequin-adorned cream bodice and a light lavender and sky-blue skirt, perhaps made of a gauzy or chiffon fabric. A sash of this same translucent fabric wraps from her left shoulder onto her lap and across her right hip. The large chiffon skirt flows down over her legs onto the floor taking up much of the bottom half of the image. Her golden blonde hair is rolled back into an updo at the crown of her head and she wears striking red lipstick defining a bright smile and contrasted against a light, peachy skin tone. The formality of the sitter's dress is enhanced by her bright white jewelry: stud earrings, pendant necklace, bracelet, and ring. The artist beautifully captures Mrs. Meadows with medium to thick brushstrokes, prominently featured in the skirt and background. The pastel colors produce a soft glow from the figure reinforced by the kindness seen in her expression.
Submit comments about this object
Also found in…
first
previous
next
last
record 1 of 1
,
"Objects is "Portrait of Virginia Meadows""
06/03/2023
Bookmark: https://meadowsmuseumdallas.org/collections/pages/objects-1/info/643